Sunday Run/Hike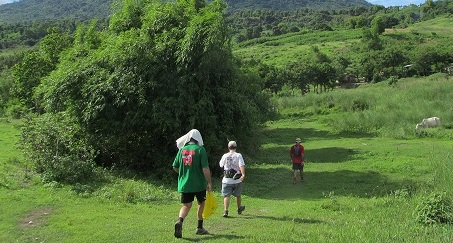 Who: Strictly Men Only
When: Once a Month - Determined by Hare
Price: Determined by Hare on the day (to cover transport and drinks)

Upcoming Angeles Hash runs
Previous Angeles Hash runs
Number
Date
Location
Remarks
Hare
< 3 4 5 6 7 >
343
1/10/2015
transport.
Don't be late..
Scrotum & Single Malt
342.
12/19/2014
Reindeer country, looking for Santa.
Friday the 19th, if anyone has a problem with that date, talk to myself or Rusty..Ok, looks like no problem, So 3.30pm Niagara.
Rusty Nail.
341.
11/1/2014
Meeting place is Mrs Robinsons, be there before 2.00pm.
This Beach is combined with the Bushranger, so one trail for the both
Soggy.
340
10/11/2014
Meet Niagara Bar/Rest. Jeepney to run site, so don't arrive after 3:00 PM or you'll miss it!
A-B, about 7.3 km mainly flat, dry feet if you're careful.
PUSSY LICKER
# 339
9/20/2014
Every one will meet at Margarita Station at 230pm Sat 20th !!!!!
There will be Two Separate Trails for this Beach !!!! The Jeep will leave Margarita Station for the Long Run at 3pm & the Short Run will leave at 230pm !!!! Single Malt will be doing the long Run/trail at Sapang Boto !!!!!The Malaysians & those who wish to do the long Trail will leave with Single Malt on the jeep!!!!! Rusty Nail Will be doing the Short Trail for the Slow Walkers & Cripples from the Old Friend Ship Gate at aprox 4pm !!! The Slow Walkers & Cripples will catch a Friendship Jeep from Check Point at 330 pm and will start at 4pm (Approx ) from the old Friendship Gate !!!! The short Trail will be Approx 4 to 5 K's (no longer than 5 k's) The two groups will meet back up at Brass knob at Appox 530 pm for short Circle & some Happy Hour Beers !!!!!
Rusty Nail & Finger in the Dyke & Single Malt
338
8/16/2014
Somewhere out there.
Single Malt
337.
7/26/2014
Start is at old Friendship gate.
7km. So not to difficult.
2 Bottles.
336
6/27/2014
The start Will be from the Water Tower at the Top of Diamond Sub. Across from the Car Wash !!!!
The Run will be between 4 to 5 k !!!! it will be an A to B trail . If you are planning to drive talk to me about where you can park your car !!! Will be a Flat Walk , no Mt's , may be two or three Rivers to cross !!!! some mad caribou's !!!!!!! hahahah ON ON ON
rusty nail
335
5/17/2014
Out Porac way.
A >>> B. 7 to 8 Kilometres.
Single Malt
334.
4/29/2014
Start is at the Resto. Charlies on the Bend, Opposite the BPI bank, 200M before the old friendship gate.
A to A. About 6/7Km.
Soggy.
# 333
3/15/2014
Starts Just past the New Friendship Gate on the road going to Sapang Boto If Your Walking from Old Friendship jeep Stop walk on the Rt side of the street & U will see Beach Hash marks to the Start.
Will be a easy 4 k Walk & a Small Circle with a few beers. Then after the circle, will do A Bar Hop !!!! This is not a Rambo Beach, Don't like short trails , you don't have to come !!! it's for the Old Time Hashers & Cripples !!!!!!!! if You bring a bag or drive a Car go to 3 J 's which is off Texas St on the Alley Way !!!!! or you will have to carry your bag !!!!! No place to park Your Vehicles at the start. Not unless you leave them at the old Friendship Gate Area!!!!
rusty nail ???????
332.
3/4/2014
Friendship near cement plant Long and a short
4k short 8k long more or less On On. Bags will be transported to finish.
weak shaft
331
1/18/2014
Starts From old friendship gate..
Bags will be transported to end of run, if drivers want to leave there cars at the start, that's OK..
Wrong Way.
330.
1/11/2014
UPDATE........ The Beach will combine with Kowloon hash, leaving Margarita 2.00pm..
Cost is 200 pesos..
Two Bottles.
329
12/28/2013
Junction of Perimeter Road & Friendship Highway.
Hares will not be at the start - all hashers to start at the same time, 3:00 PM, sharp. No early starters please.
Single Malt & Pussy Licker
328
11/30/2013
Transport.
Expect the Unexpected..
Induces mens.
327
10/22/2013
Everyone make your own way to meet at corner of Perimeter Road and Friendship Highway (opposite KTV Diba, start of Korea Town).
A-B run involving some left turns, some right turns and some parts straight ahead. Drivers can leave cars on Malabanias Street, nr the Petron and get jeepney to start. Bring trunks (budgie smugglers) if you want a cooling off dip afterwards.
Bloody Fairy & Deep Throat
No. 326
9/28/2013
Shhh..
2 Bottles
325
8/17/2013
Sacobia River
maybe wet feet
Scrotum & Single Malt
324
7/13/2013
Good city Run..
No Transport..
Two Bottles.