Sunday Run/Hike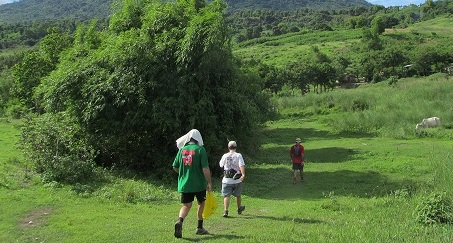 Who: Strictly Men Only
When: Once a Month - Determined by Hare
Price: Determined by Hare on the day (to cover transport and drinks)

Upcoming Angeles Hash runs
Previous Angeles Hash runs
Number
Date
Location
Remarks
Hare
< 3 4 5 6 7 >
360
8/27/2016
3pm Niagara
5 to 6 km run. No fee to Hares.EDIT!, if driving park near Premiere, bags will be transported to On-Home. Pool and shower. Men only.
Suso and Runisorass
359
7/30/2016
Town run start at Charlies At The Bend
5 Km run, On home has Pool and Gym.Transport for bags at start. If driving park near Premier Hotel and get jeepney to Charlies.Fees payable to Hares is ZERO Pesos
Kaput & Trucka Fucka
358.
6/25/2016
Don't go to Niagara, the run starts at Friendship.
there will be a 100 pesos running fee, collected at the start. transport provided for your bags. Expect the unexpected...O'dear haha. Click on Run No. for more info.
Runisorass & Morf.
357.
5/28/2016
It will be a Intown run..
6Km trail, then Funtime.
2bottles.
356
4/30/2016
Niagara.
8k and 4k runs. No wet feet. On home has swimming pool and shower. Transportation of your bags to on home will be available.
Trucker Fucker & Kaput
355.
3/26/2016
Sacobia area.
Transport. Don't be late. 2.30pm!!
Single Malt.
354
2/20/2016
BEACH oustation run on Saturday 20th Feb 2016. Meeting 2:30pm (no longer 3pm) at Johanssons, Barrio Baretto. Transport options - share a ride, taxi, fly the bus, Southern Cross, Victory Liner, cycle, walk or stay over night and come back Sunday morning. Standard BEACH traditions, MEN only, short trail and lots of fun. At last a BEACH run on the BEACH?
Bloody Fairy and/or Deep Throat
353.
1/29/2016
haha, wouldn't you like to know... Ok, beachers, two trails, one 4Km, and the other More than 4km..
3.00pm Don't be late.
Single Malt & 2 Bottles.
352
12/12/2015
Premier Hotel
The A-Z is back and strictly MEN only. Please arrive promptly, do not miss the start as we are live haring a trail taking in 26 bars. 11:30 Registration (P200 per person) & collect commemorative goody pack 12:00 Photoshoot and Briefing 12:12 Departure for A Bar
Deep Throat & Bloody Fairy
351.
11/21/2015
transport, so will be out in the beautiful countryside of Pampanga.
Don't be afraid, this is Not a Marathon, this is male bonding time, Cheers.
2 Bottles
350
10/10/2015
Friendship , new Jollybee parking Lot.
Transport for your bags to finish will be available. Bring towel and gear if you want to swim at the onhome. Park your cars near Phoenix Hotel and take the Jeepney to Friendship. Run will be 5 to 6 k
Kaput & Trucker Fucker
349
9/26/2015
Friendship. Usual place.
Hello Brian will be at Friendship 01.00. Need your know how regarding the bar hop.
single malt & two bottles
348
8/15/2015
Jeepney leaves from Niagara bar/rest. in Santos street at 3:00 PM sharp.
Trail is A-B. Secure place will be available to store bags, etc., while you're on the trail.
Pussy Licker & Scrotum
347
7/25/2015
Charlies On the Whats It. Top of Perimeter Road.
The forgotten Hash pops it's head over the foxhole
Single Malt & Two Bottles
346
6/23/2015
The concrete benches/open market area where the old railway lines intersect Fields Avenue, on the same side of the road and just up a bit from JJ.
Olde skool BEACH. 5km max, no women, no dogs, no kids, no gays, no wet feet, no early starting, no armchairs, no whinging. This is back to hashing at it's best, start together, run together, drink together. Car Drivers: Park near Premiere Hotel. Chaps: Please bring your swimmers if you fancy a dip, no mankinis allowed.
Bloody Fairy
345
5/9/2015
SUBIC! Transport to Subic leaves Niagara at 11.30am, limited seats in private cars.
Out of town BEACH run on Saturday May 9 at Subic. Propo will hare a 7km hilly trail near Scots Foundation north of Subic with on-home at Johans Baloy. Meeting time and place is 2PM at JOHANSSON'S in Barretto. Transport for the run start site will leave Johansson's sharp at 2PM.
Proposition
344
4/11/2015
Meet outside bar next to Honey Ko's on Perimeter Rd. Trail starts Sapang Bato Gate
Trail ~11 km of mostly flat, fastish terrain. There will be creek crossings, so expect wet feet. Bring water as there is little cover!
Leech My Nuggets
343
1/10/2015
transport.
Don't be late..
Scrotum & Single Malt
342.
12/19/2014
Reindeer country, looking for Santa.
Friday the 19th, if anyone has a problem with that date, talk to myself or Rusty..Ok, looks like no problem, So 3.30pm Niagara.
Rusty Nail.
341.
11/1/2014
Meeting place is Mrs Robinsons, be there before 2.00pm.
This Beach is combined with the Bushranger, so one trail for the both
Soggy.