Sunday Run/Hike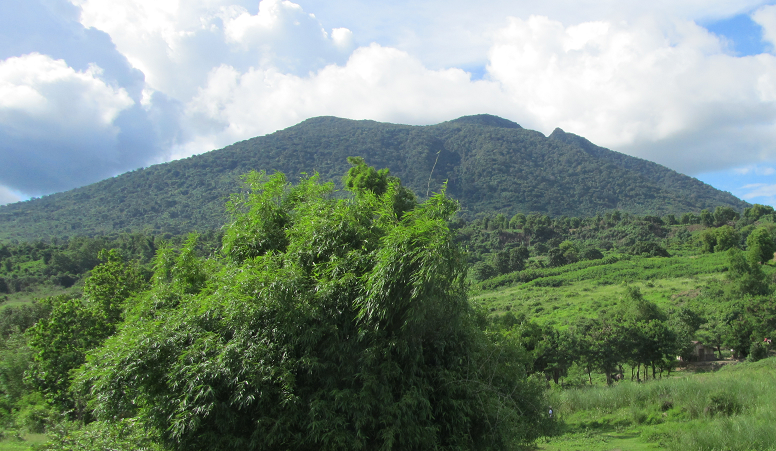 Who: All - Adult themed - Children welcome but Parental discretion advised
When: Every Sunday
Price: Men 350 Peso, Women 150 Peso, Kids 100 Peso for ordinary runs. Special runs like the AGPU or Anniverasy may have different run fees.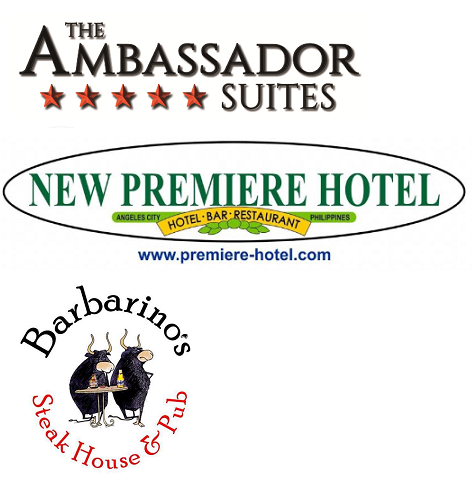 Upcoming Angeles Hash runs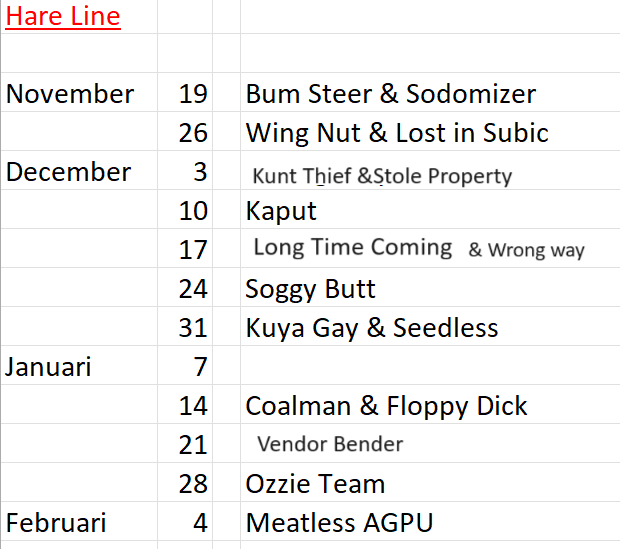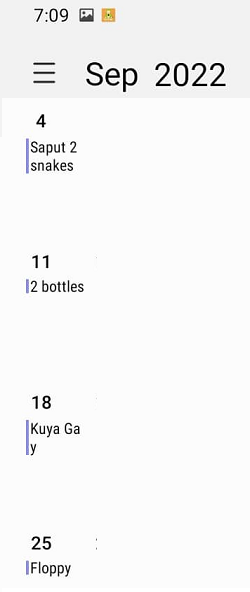 Previous Angeles Hash runs
Number
Date
Location
Remarks
Hare
< 1 2 3 4 5 >
2071.
4/15/2018
Anunas.Go past friendship gate, turn left just before the cement factory,go over the bridge and take the first right,continue on to the dragon fruit farm for the start.Click on Run No. for Map.
One trail 6 to 7Km. On-Home...NOT the Premiere, Moon's Bar, in Diamond Subd..
Picasso & Mother Duck.
1687
12/5/2010
Apo Church, Angeles to Anchorage Inn
2047.
10/29/2017
Arayat. Start is at traffic circle in front of Pampanga agricultural college, past Magalang. Park at back near college.
One trail, 7.5Km gentle up and down. On-Home Moons bar. Diamond. Click on run No. for map.
Induces & Helpers.
1879.
8/10/2014
Area between Base and Dapdap.A to B Run.
10K medium, and 5k Short Trails. people doing the medium will be dropped off the jeep first, those doing the short will be dropped at a different location.. On-Home is Niagara.
2 Bottles & Sirena.
1746
1/22/2012
At Magalang do the left then right turns, on to the roundabout, turn right into the Pampanga agri college, next right turn, and stay on that road for 2km, the start is just off the road to the right.
If stopped by the guard at the entrance to the college, say you are going to Bliss. The run is A to A. Click on run Number for map..
Induces + Helpers
2092
9/9/2018
At the rock crushing plant. Over the bridge to nowhere turn right at the T junction and continue to the cnr at the rock crushing plant for start.
Two runs 4kms and 6 kms .... both easy but may be raining so be prepared for that. On Home at the Premier
Finger in the Dyke & Honey Dew
2128.
5/19/2019
Ayala. Mt.Arayat.. go through Magalang, turn left then right onto Magalang-Pac Rd.At pampanga Agri College roundabout go left,Just to clarify this roundabout, go around and take the second exit, continue for about 3km, then it will be a right turn,marked with calsamine from that point to the start.
On-Home. Scandinavian mental Hospital..(aka. Ni-Agara) Two trails, short about 4km, medium longer. The owner of Niagara is putting on a BBQ, asorted meats +rice or potato salad, I don't know the cost.. I have added a map that might help.click on run No.
Two bottles & Sirena
1735
11/6/2011
Ayala. Mt.Arayat.. go through Magalang, turn left then right onto Magalang-Pac Rd.At pampanga Agri College roundabout go left, continue for 1.4k, then a right turn onto a concrete rd,on for 400m to start.hope this is perfectly clear!
click on run number for map of start location.
Induces & helpers
Mt Arayat Outstation
2/10/2012
Baguio
Single Malt
1676
9/19/2010
Bahay Bata Friendship
1700
3/13/2011
Bailey Bridge, Bamban
1694
1/23/2011
Balite Lake, Mt. Arayat
1922
6/7/2015
Baliti - Mt Arayat area - Take Angeles Magalang Rd (past Marquee Mall) to Magalang. Turn right at Jolly Bee and continue 2.8kms. Then turn left on that road 2.4kms. Passing the village of Baliti. Turn left just before the bridge. Continue to the run site. Park along the road just past Gintung Pakpak Ecopark.
on home Marble Inn (on road leading to Swagman Hotel)
Bush Diver & Handbrake
1744
1/8/2012
Baliti Pond, Mt Arayat. Drive to Magalang. At Magalang town turn right at gas station. Approx 2.5kms take a left at the trike terminal. Drive another 2.5 and take the left turn. Do not go straight at this junction. If you cross bridge at the stream you have gone to far. Carry on to Baliti Pond.
A >> A. Make sure the front seat jeepney passengers know where they are going. It would nice if our private vehicle drivers timed their arrival to coincide with the jeeps so that everyone could start together like wot we used to do. Bloody hell I just saw a pig flying over Manuela Compound.
Weak Shaft & Single Malt
2155
11/24/2019
Bamban - Type into google maps 15.243343,120.528340 for exact location.. meeting beside the river,.. go over Sacobia Bridge (to nowhere) , straight on, turn right at T junction at end, drive straight for 2km, where the road bends sharp right turn left, pass rock crushing plant on the right, after that take next right, drive down 1.5km, the right turn towards the river will be marked.
One trail, 7.2km, easy hiking, nothing steep, shallow wet feet crossing. On-On
Big Sister
2109
1/6/2019
Bamban Mango Grove. Over the Bridge to Nowhere, right at "T junction", right at rock crushing plant, over Bailey bridge, left turn at end of long wall, follow road for about 2 km to Mango grove.
This will be the absolutely best trail of the year! Short trail 4 km, one 50 meter hill. Longer trail 7km (will do a part of the short trail in reverse.) On Home Premiere Hotel.
Deviant & Vendor Bender
1968
4/24/2016
Bamban Mango trees. Go over the Bridge to Nowhere. Turn right at first and second T-junctions. Pass baily bridge, turn left after wall on left side. 1 km to mango trees.
Run is approx. 7.5 km. Bit of up and down. Chance of wet feet. On home Premiere.
Runisorass & Bush Wanker
1972
5/22/2016
Bamban, Left turn up the mainang rd.follow that for 1.5Km, start is on left side by a small nipa hut, with parking space.
Three trails, one short 3Km, one longer, and one false trail. Don't start before hares arrive. bring flashlight if you want to see inside japanese cave, and if so go in with partner. On-Home Niagara. Note, Fruit tree's along the trail, please no picking..
2bottles & Sirena.
1805
3/10/2013
Bamban, Take MacArthur hiway to Bamban, go over the bridge(Coathanger) on for 1.4km, then left on the Mainang Rd, on for 1.3km, then a right turn(will be marked)down there for 400m..
A to A. 5/6km run, couple of steep spots!.. On-Home Margarita. Click on run No. for map.
Soggy dickhead
2144.
9/8/2019
Bamban,start will be near lady of Lourdes shrine, as you turn off MacArthur hiway look for marks to start.✔
One trail, about 7km. On-Home Niagara, there will be BBQ available. Girls and Hashers over 75 can be seated, the rest standing with beer in hand talking about all the changes in our town..😁👍. Click on run No. for rough guide to start.
Two Bottles & Sirena.